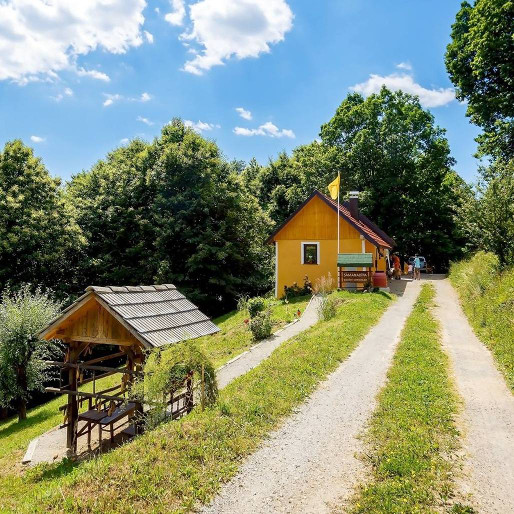 Goljek Forest Hermitage – also called Samaṇadīpa – is a small monastic (samaṇa) sanctuary (dīpa) for small number of monks from the contemplative and conservative forest tradition of Theravāda Buddhism. It is the first of the kind in this part of Europe that follows the original teachings of the Buddha, as found in the early texts and has an unbroken linage from around 2600 years ago. The monks follow the high standard of the monastic code (vinaya) and the teaching (dhamma), which can be found in Theravādin countries (Thailand, Sri Lanka, Burma, Laos, Cambodia).
Samaṇadīpa uses two seperated lands. The main Hermitage's cottage (Ārāma) stands on a slope of half a hectare of land, and more than 3/4 of it is covered in forest. The cottage has the Shrine Room, the kitchen and two bedrooms; in the forest are two kuties, Abhaya Kuṭī and Piya Kuṭī. The second - more secluded and private property - has a cottage (Viveka Vihāra) with two bedrooms and one kuti (Viveka Kuṭī). The property is located about 20min walk from the Samanadipa Arama Vihara.
Samaṇadīpa welcomes visits from anyone who is interested in the Buddha's Teaching, meditation or seeking the answers to their existential problems. The main purpose of the place is to provide seclusion for monks, however any visitor is welcome to talk to monks and also could stay here overnight for few days (more info).
Goljek Village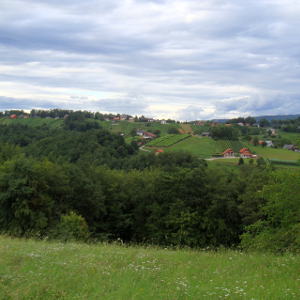 The Hermitage is located in a serene, natural environment amid forested land, on Goljek Hill, 40mins drive from Ljubljana, the capital of Slovenia. Goljek is a roadside village positioned on a hill near Čatež, north-west of Trebnje. There is an expansive view of the surrounding area from the nearest hill, the 544m high Zaplaz.
Though only a small piece of the forest belongs to the cottage, the forest itself is extensive and stretches out in all directions. Goljek Village is a very small and peaceful place with a population of approximately 65 people.
The Residents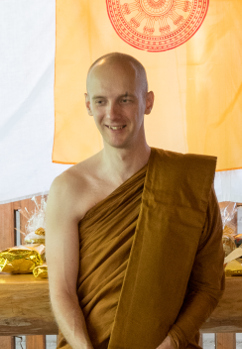 Venerable Hiriko Thera
( the Guardian of the Hermitage)
He was born in Ljubljana, in 1985. He took anagarika (postulat) precepts in Santacittarama Monastero Buddhista in Italy in 2004. In the same year he went to England to take samanera (novice) ordination, and in 2006 he become bhikkhu (fully ordained monk). His preceptor was Venerable Luang Por Sumedho (Phra Chao Khun Sumedhajahn). Ajahn Hiriko was also the chief editor and the administrator at Path Press and the author of The Hermit of Bundala, the biography of an English monk from Sri Lanka, Ñāṇavīra Thera. He is also writer of Slovenian articles (Menihovi zapisi) and translator of Buddha's talks or Suttas. Previously he was living in the following monasteries: Amaravati Monastery, Chithurst Monastery, Aruna Ratanagiri (in UK), Bodhinyanarama (in New Zealand), Santacittarama (in Italy), Wat Marp Jan (in Thailand), Sri Sumedha and Bundala Kuti (in Sri Lanka).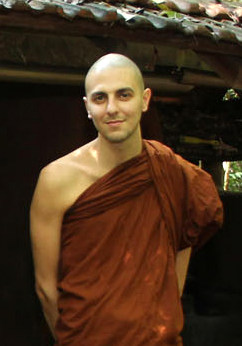 Venerable Pasada
He was born in 1982 in Prague, Czech Republic. He become bhikkhu (fully ordained monk) in 2013 in Sri Lanka. He spend most of his monastic years in Sri Lankan jungles, including the Island Hermitage (Polgasduwa) and Laggala hermitic community.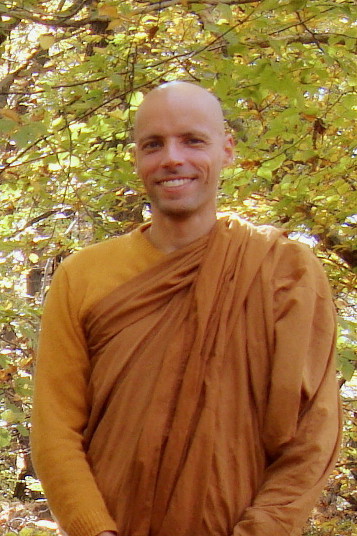 Venerable Thavaro
He was born in 1977 in Germany. He become bhikkhu (fully ordained monk) in 2016 at Wat Buddhabharami (Hamburg, Germany). He spend of his monastic time also in Thailand and Sri Lanka.