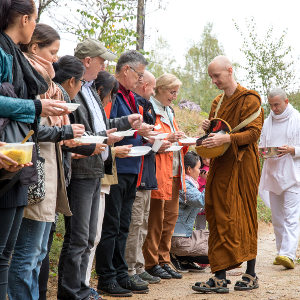 For over 2600 years, the monastic tradition has survived only through the support of other people. Monks must refrain from growing or cooking their own food, and handling money. To this day, the lay community in many countries around the world continues to generously provide monks with the basic requisites of food, clothing, lodging and medicine. Samaṇadīpa is supported entirely by donations. They give their knowledge, service, their time and energy free of charge, dedicating their whole life to the practice of the Buddha's Teaching. People who are inspired by this support the monks in return. It is left to the good will and discretion of visitors and well-wishers to decide how they might support the work of the hermitage.
Generosity is a positive quality of the heart which the Buddha greatly encouraged for its benefits to the giver in this life and beyond. Unless they are clearly invited to do so, monastics may not ask for anything directly. They enable the monastics to continue their work of training in, and sharing, the Dhamma. This facility and its resident monastics have no outside means of support.
If you believe our hermitage is worthy of support, you can do so in the following ways:
1. Offering food and other items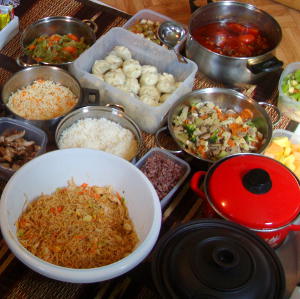 The Hermitage is closed bacause of Covid-19. Therefore the information below are not relevant during this period.
However, forest monks have to survive, but support can only be made only from a distance. The Committee therefore set up a system so that the monks could receive the most basic necessities of life. Instead of delivering the food personally to the hermitage or delivering it through online shops (which are already overloaded), we suggest that you make a financial donation for food. Then, when necessary, we will fill the monastery storeroom through a Mercator worker. This will protect all all and relieve the flow of support. And we are already very grateful for that. Please see more information below under Financial Support.
Our meal time starts at at 11am.
There are three options how to offer the meal:
1. If you wish to bring a food offering and join in with the meal, please contact us at least one day in advance. Offering food to the monastic community provides an opportunity to visit and participate in the lifestyle of the monastery. You are welcome to cook your food in our kitchen, though beware that the kitchen is simple and some people may feel awkward preparing food in a kitchen that is not their own. If that is the case, it may be easier for you to prepare a dish or several dishes ahead of time.
You are also welcome to offer the meal for the followng day and then the kitchen manager can reaheat it and offer the meal to the monks in our name.
2. You can offer food items which can be stored in the hermitage's pantry, so then in later time a guest could use the offerings for cooking at the hermitage. If you are livign in Ljubljana you can also give food offerings to the members of the Foundation who can deliver the items to the Hermitage for you. You can contact Shila (LJ Šiška, 031 684 942) or Nedi (LJ Center, This email address is being protected from spambots. You need JavaScript enabled to view it.).
3. As an alternative, it is possible to make a specific donation to cover the mid-day meal. Other supporters have kindly agreed to use the donated funds to buy food or/and prepare the meal for the community on your behalf. For more see bellow.
Dana Suggestion List / Predlogi za darovanje
Prijatelje Samanadipe pogosto zanima, kaj potrebujemo. Spodaj je seznam, kaj bi pomagalo, skupaj z drugimi informacijami, ki jih morda želite vedeti.
Friends of Samanadipa often inquire regarding what is needed. Please find below a list of what would help, along with things you might like to know.
Posodobljeno / Updated: 21. 3. 2020
The kitchen manager: Sm. Mahidipo
The store-monk: Bh. Phasuko
Koristni živilski izdelki / Helpful food items:
- kruh / bread
- mleko / milk; mleko v prahu / milk powder
- zelenjava / vegatables
- sadje / fruit
- mleta kava / ground coffee
- aršidovo maslo / peanut butter
- lešniki / nuts
- sir / cheese
- musli, kornfleks, ovseni kosmiči / musli, corn flakes, oat flakes
- konzervirana hrana / canned food
- omake v konzervi / canned souce
Ostale stvari / Other items:
- AAA baterije / AAA baterije
- papirnate brisače / kitchen roll
DELIVERY FROM ONLINE SHOP:
If you cannot come to the Hermitage, you might find useful another option: you could order food online and then the shop delivers food to our address (Goljek 3, Trebnje)
https://trgovina.mercator.si/market/
2. Financial support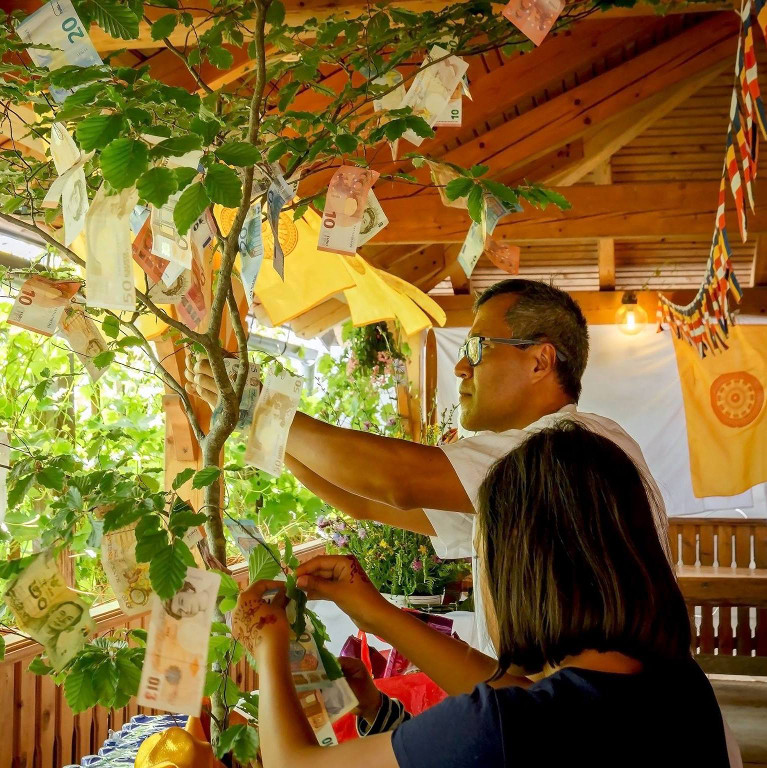 Donations allow the hermitage to have access to water, electricity and other basic requisities and provide a source of inspiration and teaching to the laity. In this way the Buddha's teachings are able to survive and thrive for generation after generation. Donations are needed for Hermitage to survive.
Monks are not allowed to accept or use money according to their monastic rules. Therefore please do not hand money directly to the monks.
You can use Donation Box at the Hermitage or you can send donations to the bank account of the association "Društvo theravadskih budistov Bhavana" (in Slovenia) which is the financial stewards of the hermitage.
Bank transfer:
Gozdni budistični samostan Samanadipa
Goljek 3,
8210 Trebnje
Slovenija
IBAN: SI56610000023637792
(The Bank: Delavska hranilnica d.d.
Miklošičeva cesta 5, 1000 Ljubljana)
BIC/SWIFT: HDELSI22
Standing Order: It is very helpful to the Monastery Trust to know that there is some degree of regular financial support. Standing orders are one of the best ways of ensuring this. If you are in a position to make such an offering then you can do so by completing a standing instruction to your bank.
Online Donation (via PayPal):
I wish to make a donation towards Samanadipa Forest Hermitage and the forest monks in Slovenia.

Samanadipa Forest Hermitage is adminstered by Društvo theravadskih budistov Bhavana.
3. Donating work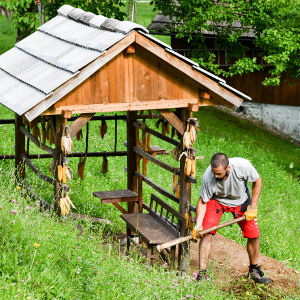 Your help with building or maintenance is also greatly welcome. The monastery always needs help with:
forest work

:

brezovanje

twigs

,

trees

,

cleaning

, chopping

firewood

garden

work:

pulling

weeds

,

and planting

ornamental plants

,

pruning

, mowing

,

raking

.
Digging into the earth and the destruction of living plants are the things that the monks are not allowed to do. But such works in nature are indeed necessary and therefore help of this kind is never enough.
Also you welcome to help with various tasks and professional services, such as construction, transportation, and administration. If you would like to volunteer your support please contact the Hermitage.